Cosmetic Dentistry in Burnaby
Cosmetic Dentistry In Burnaby: Treatments.
A smile can be the most eye-catching feature of a face. We offer advanced technology for cosmetic dentistry in Burnaby to help you achieve your goals. With dentistry's many advances you no longer have to settle for stained, chipped, or misshapen teeth – you now have choices that can help you smile with confidence. Even the most subtle change in your smile can make a dramatic difference in the way you look and feel about yourself.

And while cosmetic dentistry is primarily used to increase the visual appeal of your teeth and gums, many cosmetic procedures can also be used to increase your oral health and comfort.

Keep reading below for descriptions of our services. Here is a short list of services for cosmetic dentistry in Burnaby that we can offer:

Come meet your local Burnaby Dentist
You deserve a happy dental experience, we want to help. Call us today at (604) 432-9223 for our assistance.
Orthodontics
Orthodontics can be used for mainly cosmetic reasons, or it can be used to treat any type of malocclusion, which is simply another way of saying "bad bite" and to correct the alignment of crooked teeth giving you a straightened, broad smile. A malocclusion means your lips, teeth and/or jaws do not line up correctly. Orthodontists or dentists use corrective procedures to achieve tooth jaw alignment and aesthetically pleasing smiles.
What causes orthodontic problems?
Crowding, spacing, protrusion, extra or missing teeth and some jaw problems can be genetically inherited. Other malocclusions can develop over time and are caused from such reasons as thumb-sucking, poor dental hygiene, early or late loss of baby teeth and early loss of permanent teeth. It is important to treat these problems as they can sometimes cause hard to clean areas, tooth decay, difficulty chewing and/or speaking, possible jaw joint issues, periodontal challenges and many other issues.
Invisalign® Treatment
Invisalign® treatment uses 3-D computer imaging technology to depict the complete treatment plan from the initial position to the final desired position from which a series of custom-made "Aligners" are produced. Each "Aligner" moves teeth incrementally and is worn for about two weeks, then replaced by the next in the series until the final position is achieved.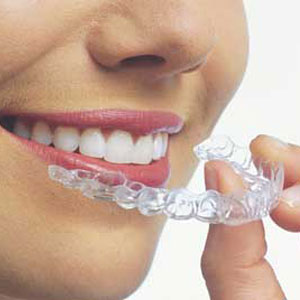 Aligners are made of clear, strong medical grade plastic that is virtually invisible when worn. They look similar to clear tooth-whitening trays, but are custom-made for a better fit to move teeth. Some orthodontists and dentists have referred to them as "contact lenses for teeth."
How do Invisalign® clear aligners effectively move teeth?
Like brackets and archwires, Invisalign® aligners move teeth through the appropriate placement of controlled force on the teeth. The difference is that Invisalign® treatment not only controls forces, but also controls the timing of the force application. At each stage, only certain teeth are allowed to move, and these movements are determined by the orthodontic treatment plan for that particular stage. This results in an efficient force delivery system.
There are four primary benefits of Invisalign® clear aligners:
1. Invisalign® treatment is nearly invisible-you can straighten your teeth without anyone knowing.
2. Invisalign® treatment is removable-you can eat and drink what you want in treatment; you can also brush and floss normally to maintain good oral hygiene.
3. Invisalign® treatment is comfortable-there are no metal brackets or wires to cause mouth irritation; no metal or wires also means you spend less time in the doctor's chair getting adjustments.
4. Invisalign® treatment allows you to view your own virtual treatment plan before you start so you can see how your straight teeth will look when your treatment is complete.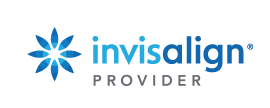 Invisalign® treatment is the easiest way for you to straighten your teeth without metal brackets and wires. We have experienced Invisalign® provider certified dentists to help get your teeth straighter and the smile you have always wanted.
Book your Invisalign® treatment consultation today!
Braces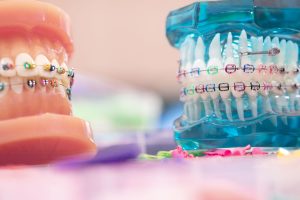 Braces are orthodontic devices made out of plastic, metal or ceramic that are placed on the teeth and use pressure to move them into their correct position for a straight smile and perfect bite.
Treatment typically lasts 2 years on average and can improve teeth that show signs of:
Overbite
Underbite
Cross bite
and more!
Contact us for more information on orthodontic treatment.
Come meet your local Burnaby Dentist
You deserve a happy dental experience, we want to help. Call us today at (604) 432-9223 for our assistance.